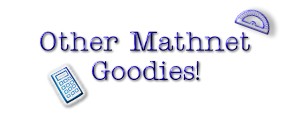 These are a few 'goodies' and links to pages that don't fit into the main categories (yet...), but are just as fun. Just click below, and you'll be swept away to the page of your choice. Enjoy! :@ )
Can't find what you're looking for? Check this page!
*Here's some more info about Noggin!*
In case you don't have the channel...
I can't explain this page, just go see it!
Let's keep on celebrating Joe Howard's 50th Birthday!
She has another one coming up very soon!
Did you know Miles Reed and Pat had a baby? Read all about it!
The name says it all. Now, if you can just help me out here...
*Want to see a few more Mathnet-related sites?*
In case you missed this on the front page...
Check this out!
If you would like to use the Mathnet Webshots Screensaver images I will soon be offering to go with the upcoming Mathnet PLUS! Theme, please click the banner below to check out the Webshots site. You can download the program (and other cool images) there for FREE! I use it on my PC, and highly recommend it!


Webshots! Over 1000 screen saver and wallpaper photos. Free Download!
If you have Webshots already, here's a direct link to my Community Album page!
---

She's Got the Goods: Jill M. Sheehan
Copyright ©1996-2002 by WildWorks - ALL RIGHTS RESERVED